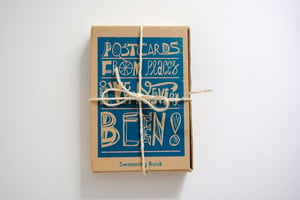 €

12.00
A postcard is a letter without envelope, with two faces, one for the sender´s message, the address of the recipient an the stamp, and the other contains an image, usually a picture of a site or place where you are, or have been.
But through our imaginary, through what someone told us, through the books or the movies, we build ideas on places we've never been.
In this collection 9 illustrators designed 16 postcards, with sites and places, real or imaginary, which they have never been.
From the South pole to the Wild west, from Eden to Center of Earth….
The postcards came in a handmade box, printed with silkscreen.
Numbered edition, limited to 52 copies.
Featuring:
Alvaro Tapia Hidalgo
Ella Cohen
Ilse Weisfelt
Jaime Ferraz
Jay Cover
Julie Van Wezemael
Lie Drix
Pieter Van Eenoge
Philipp Dornbierer
look inside here